Use your crafty skills to makes these Silhouette cameo clothes for yourself, friends and kids.
This post may contain affiliate links, view my full disclosure policy.
The Silhouette cameo is an amazing cutting machine and it's my go to craft tool! I have used it to create cards, banners, wall art, wreaths, and even clothing.
Making shirts for my girls is becoming one of my favorite crafts, I've done them for holidays and am working on a birthday piece right now.
The items are personalized, exactly what I am looking for, and don't cost me an arm and a leg. Sometimes it's easier to make the shirt you are looking for rather than spend hours shopping online for just the right peice.
Want some inspiration to make your own clothing and accessories with your Silhouette?
I have gathered up some of my favorite Silhouette cameo clothes projects that will insire you to start creating right now.
Monogram Ornament Shirt Holiday photos look really cute when all the kids are wearing matching outfits. I made these shirts with glitter monogrammed ornaments so each girl has their own. The pictures are just too cute.
Turkey Onesie This is a onesie I wasn't going to find in a store. The turkey feathers on the back are made with scrap fabric and the writing on the front is HTV.
Glitter Necklace with Flower Add a little sparkle to a girl's shirt with glitter HTV. The yellow flower is made with a scrap of fabric and some basic sewing skills.
Keep Calm Onesie from The Thinking Closet. Freezer paper is essential in the craft room, I use this material all the time to make stencils.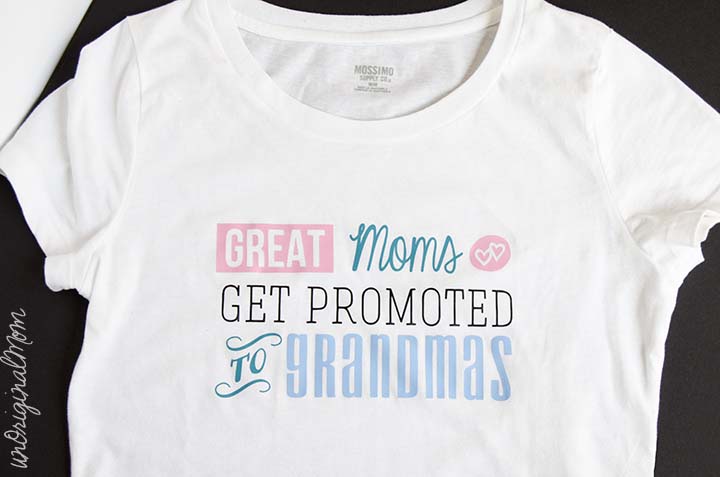 Mother's Day Gift Idea from Unoriginal Mom. This is such a fun shirt to make for Grandma when announcing a pregnancy.
Game of Thrones Shirt from Where the Smiles Have Been. A custom shirt for a kid with a favorite saying or quote is so easy to make using your Silhouette.
Have Silhouette Will Vinyl Shirt from Simply Kelly Designs. If you love your Silhouette, this is the shirt for you. Follow the link for a tutorial and free SVG file to make your own.
Stenciled Watercolor Makeup Pouch by Pitter and Glink. Use your Silhouette and HTV for any fabric crafts like this makeup pouch.
Monogram T-shirt with Heat Transfer Vinyl from Pitter and Glink. Custom shirts with monograms can be hard to find and purchase, but making you own in pretty straightforward with this tutorial.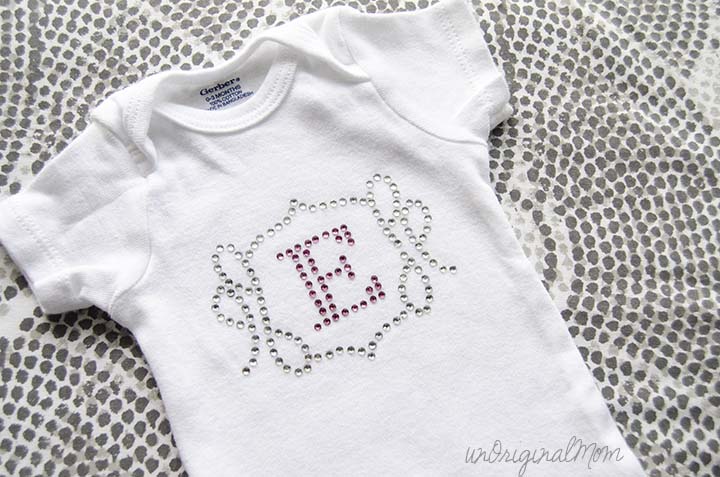 Super Cute Onesies from Unoriginal Moms. If you haven't tried using rhinestones with your Silhouette you have to give it a go. The process is really fun and you can make gorgeous shirts like this one.
Fabric Applique Onesie from The Thinking Closet. Use your machine to cut fabric and create a simple onesie like this one.
Stenciled kids apron Create a custom apron using a Silhouette to cut stencils. Your child can help paint their very own piece.
Layered vinyl St. Patrick's Day shirt. Layering vinyl is a fun way to make your designs pop.
If you like these projects and pin and save this post.
This collection of Silhouette cameo clothes should inspire you to get creative!
Thanks for visiting!