Find inspiration for DIY house numbers and improve the curb appeal of your home.
This post may contain affiliate links, view my full disclosure policy.
I love my front porch. It's not super big, you really can't sit on it, but it's covered and holds lots of plants and seasonal decorations.
Next to my front door is a blank wall just begging for something. I've decided it needs house numbers. Currently we have standard black and white numbers tacked up over our garage. So boring, and tiny, it's hard to see from the road.
Before I go buy some fancy numbers at the hardware store, I thought I would poll my fellow bloggers and dig through Pinterest for some inspiration. And wouldn't you know I found some amazing and creative DIY house numbers.
I am so excited to get started on my own project before winter arrives.
Enjoy my inspiration, maybe your creative juices will start flowing too! Be sure to click through to each project and find the original creator, they will walk you through how to make these house numbers.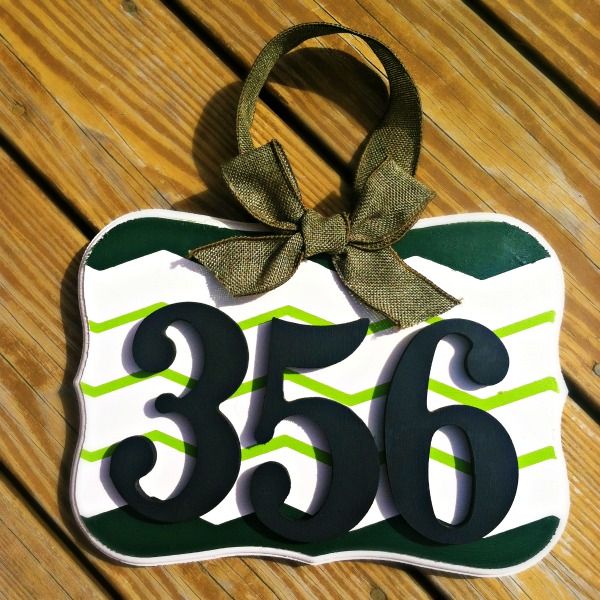 This colorful sign can be made using items from the craft store. A blank wood plaque and some wood numbers are combines with ribbon and paint. Be sure to seal the sign before hanging it outside.
House Number Sign from The Happy Scraps. This sign uses vinyl as a stencil with colorful paint. A great way to add color to the front of your home.
House Number Pumpkin Topiary from At the Picket Fence. I love the idea of changing up my house numbers with the season, this is such a cool idea.
House numbers installed on a stair riser from Remodelaholic. If you have any steps leading up to your home this is a beautiful and unique way to display your address.
Address numbers post planter from Shanty 2 Chic. Create a focal point with a hanging planter on a post that displays your house numbers.
DIY cedar plant box with Shanty 2 Chic. Another creative way to combine plants with house numbers.
Home address plaque tutorial from Girl Loves Glam. This plaque resembles a pallet and adds some dimension to the numbers.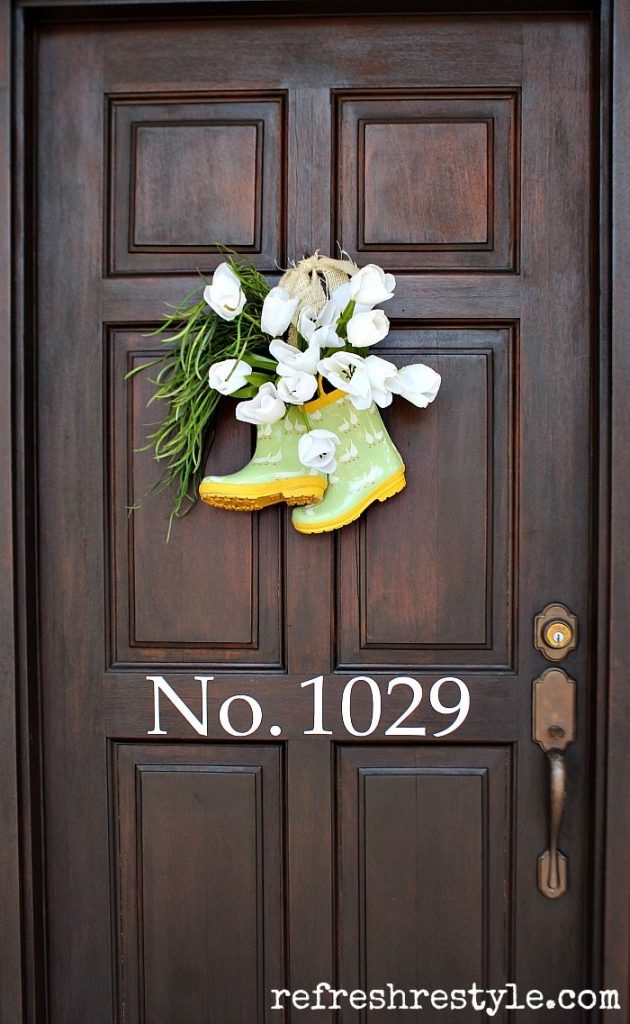 Refresh Restyle made these cute rainboots for her front door, but I can't get past the numbers. I love the simplicity of placing them right on the door.
Another simple way to display house numbers is next to the front door. My porch is very similar and there is just enough room for 2 maybe 3 numbers here.
Old milk can turned address marker from Art is Beauty. Another great way to incorporate design into the house numbers.
I ended up creating a sign using wood numbers and black adn silver paint. I was so inspried by this collection and wanted to create something that stood out yet blended with my front porch.
If you are inspired by this collection of DIY house numbers be sure to pin and share this post.
How is your address displayed where you live?
Thanks for visiting!