Create an indoor planter with these succulent display ideas.
This post may contain affiliate links, view my full disclosure policy.
I have been a fan of succulents for a while, I have seen so many beautiful collections of these pretty little plants, it was time to make a terrarium of my own.
Shopping at Home Depot this week I walked past the succulent display that I have passed so many times, and finally bought a couple of plants. I brought them home knowing I could plant them in just about anything. Here is the Simple Succulent Terrarium I put together.
I drew from the abundance of inspiration put together by some of my favorite bloggers, you can see all that inspiration below.
I looked around for a planter and decided on this vase for my succulent display. I've had it, with stones in it, in my bedroom for close to 2 years. It wasn't doing much up there and needed some new life.
To plant the succulent I layered stone at the bottom of the vase for drainage, then soil in which I planted the succulent. Finally, I layered more pebbles on top.
These dessert plants don't need much water or care but there are some rules to follow with these indoor succulent display ideas.
Be sure to add some drainage to whatever vessel you are using. The soil should be prepared specifically for your plant, check with an employee at the garden center of your choice to be sure.
Give your display indirect sunlight and a little water once a month and it will grow and thrive.
These require very little water which is great for me because I often forget to water my house plants. I am loving how this looks in my living room
Now take a look at some of these amazing succulent display ideas, be sure to click through and pin from their pages so you can save all this inspiration.
Succulent Display Ideas
$2 Thrifted Brass Light Fixture Turned Glam Terrarium from May Richer Fuller Be. A thrifted container is a fun way to save money and reuse something beautiful as a planter.
DIY Succulent Zen Garden from Dwell Beautiful. I love the simplicity of this sparce zen garden featuring 2 little succulents.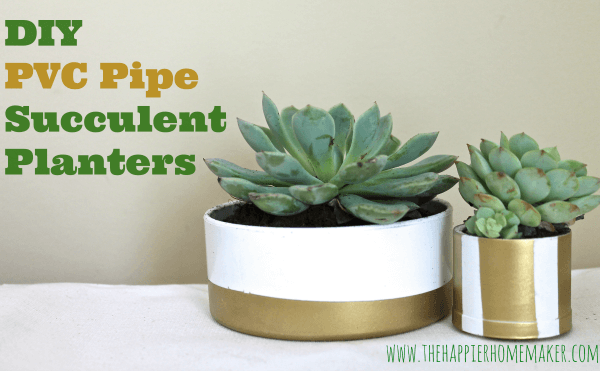 PVC Pipe Succulent Planter from The Happier Homemaker. Another fun way to upcycle something and turn it into a planter.
Make Your Own Hanging Globe Terrarium from Town and Country Living. These glass planters can be filled with a little soil, some rocks for drainage and plants. I love how she added shells in this one.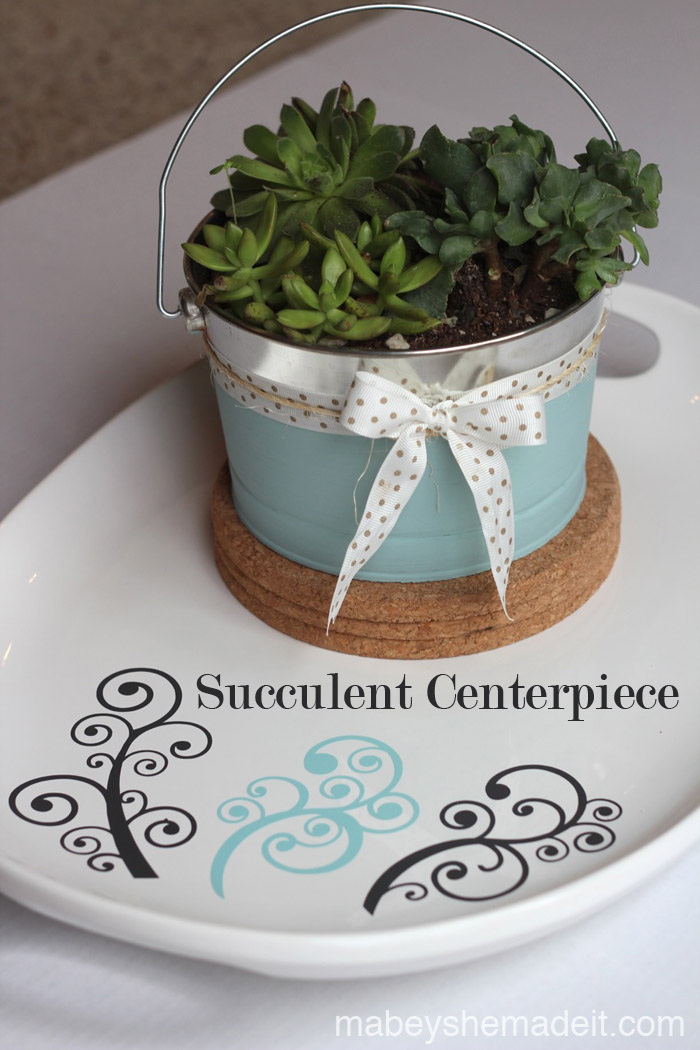 Succulent Centerpiece from Mabey She Made It. Use your display as a centerpiece paired with matching accessories.
Upcycle Cans into Planters from Home Made Interest. Save those tin cans for this easy project and add your own colorful paper and letters.
Retro Chip n Dip to Succulent Planter from The Silly Pearl. Use that chip bowl as a planter filled with glass stones and soil. Prop up the smaller dip bowl on top to add some height to this fun display.
Succulents Galore from Weekend Craft. A trio of plants makes a pretty display.
Tin Cup Succulent Dish Garden from Atta Girl Says. Use a tin cup with soil, stones and moss to create the cutest little succulent planter.
Succulent Letter Craft from FrugElegance. Succulents are quite hardy and will grow in a fun vertical display like this one.
DIY Faux Succulent Planter from Blue Water Life. Wrap a plan bowl in twine for this rustic look.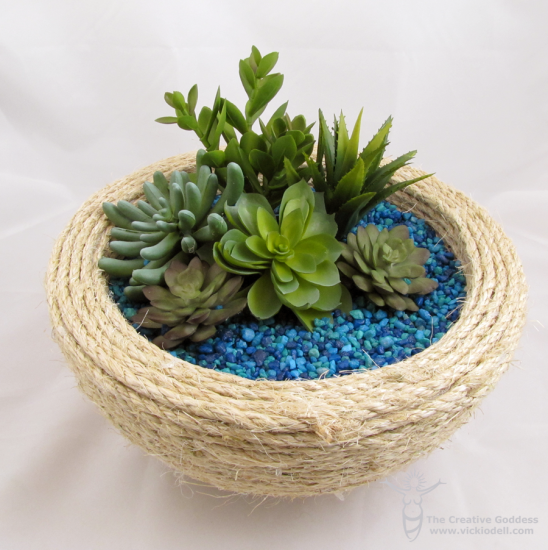 Succulent Dish Garden from Vicki O'Dell The Creative Goddess
If you liked these ideas, be sure to pin and share this post.
Aren't these creative succulent ideas inspiring! Get planting and be sure to tell me all about it. Have you gotten creative with succulents?
Thanks for visiting!