Note: This post contains affiliate links
I've got double header for you today. I am part of a Fun in the Summertime series over at Occasionally Crafty.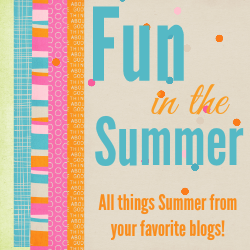 You can see my post next week. Today, to go along with this series, we've got a giveaway for you!
Now that you've entered, let's move on to today's post.
You know those commercials and videos about Mom that run around Mother's day and during the Olympics. The ones about Mom being there and helping kids grow up through all these crazy circumstances. They have a super touching tear-jerking ending, at least I cry at the end. There was one a couple years back from Johnson and Johnson that showed Moms with newborns doing what they do…screaming, crying, just being babies. At the end of the commercial it said something along the lines of "you're doing a great job Mom". I had an infant at that time and seriously balled every time. So what about Dad. His day is coming. Believe it or not Dad's get choked up too. Our kids have this affect on us, all of us, that can overwhelm us with joy (and sometimes tears). Take a look at this and I dare you not to tear up.
Litlle Lady and Baby Girl have an amazing Daddy who I am so blessed to be married to.
This year we are making Daddy's day extra special. We'll be vacationing in Florida so right off the bat we are winning. Little Lady and I are also making him a special gift (shhh it's a surprise, I'll share it later in June) and a card. Little Lady will craft the perfect card made of paint and glitter glue. Then I will make or buy a more grown up card that she can help me sign.
I've told you before how much I like to make cards, but find it difficult to create them for every occasion now a days. These 2 munchkins keep me on my toes. I created a Father's Day card in my shop but keep selling it (not such a bad problem to have). So this year I might check out Treat.com by Shutterfly. They have beautiful photo cards and all kinds of personalized gifts to go along with the card.
Treat the special Dad in your life, you know he deserves it.
Thanks for visiting!