Find inspiration to create custom crafts with this collection of Dollar Tree Cricut gift ideas.
This post may contain affiliate links, view my full disclosure policy.
Pulling together a simple gift basket is a nice way to show someone how much you care. Gather up a few of their favorite items, throw in some things that you know they will love, and add a little personalization. The formula is easy and the creation is fun.
I'm showing you how to put together a cozy gift basket for under $10 that is customized for a very special person.
I've also gathered up a collection of gift ideas you can create using items from Dollar Tree and your Cricut.
Dollar Tree gift basket
This store is full of affordable items in just about every shopping category. They always stock unique seasonal items for every holiday, but you will find everyday useful items as well.
From food and personal care to home and auto Dollar Tree has a little bit of everything. This makes the store a destination when putting together a simple gift basket.
I made this cozy gift basket for a winter birthday. I focused on 1 color theme and gathered items that would help the recipient relax and indulge a little.
This cozy winter gift basket includes
Red plastic bin
White ceramic soup mug
Jar candle
Gloves
Cozy socks
Tea
Chocolate
Cookies
Decorative filler
These items create a wonderful gift that a friend, co-worker or teacher would love. You could add a card or printable gift tag in addition to the vinyl to really make this a unique gift.
I chose to add a little personalization using my Cricut.
Personalize a gift with Cricut
Using a Cricut machine to but personalized designs with vinyl is a great way to add a little something extra to a Dollar Tree gift basket.
I've used vinyl to personalize Dollar Tree items like these Thanksgiving trivets and Christmas door hanger.
For this cozy basket I used scraps of white and black permanent vinyl to customize the candle, mug and basket in this gift.
Watch the video for the full process or scroll down for a step by step tutorial.
Here are the Cricut items I used in this project.
Cutting mat
Black and white permanent vinyl
Transfer tape
Cricut Design Space and this design in particular
Inexpensive gift ideas with Cricut and Dollar Tree
If you like these posts, be sure to follow the links to the original projects for more details.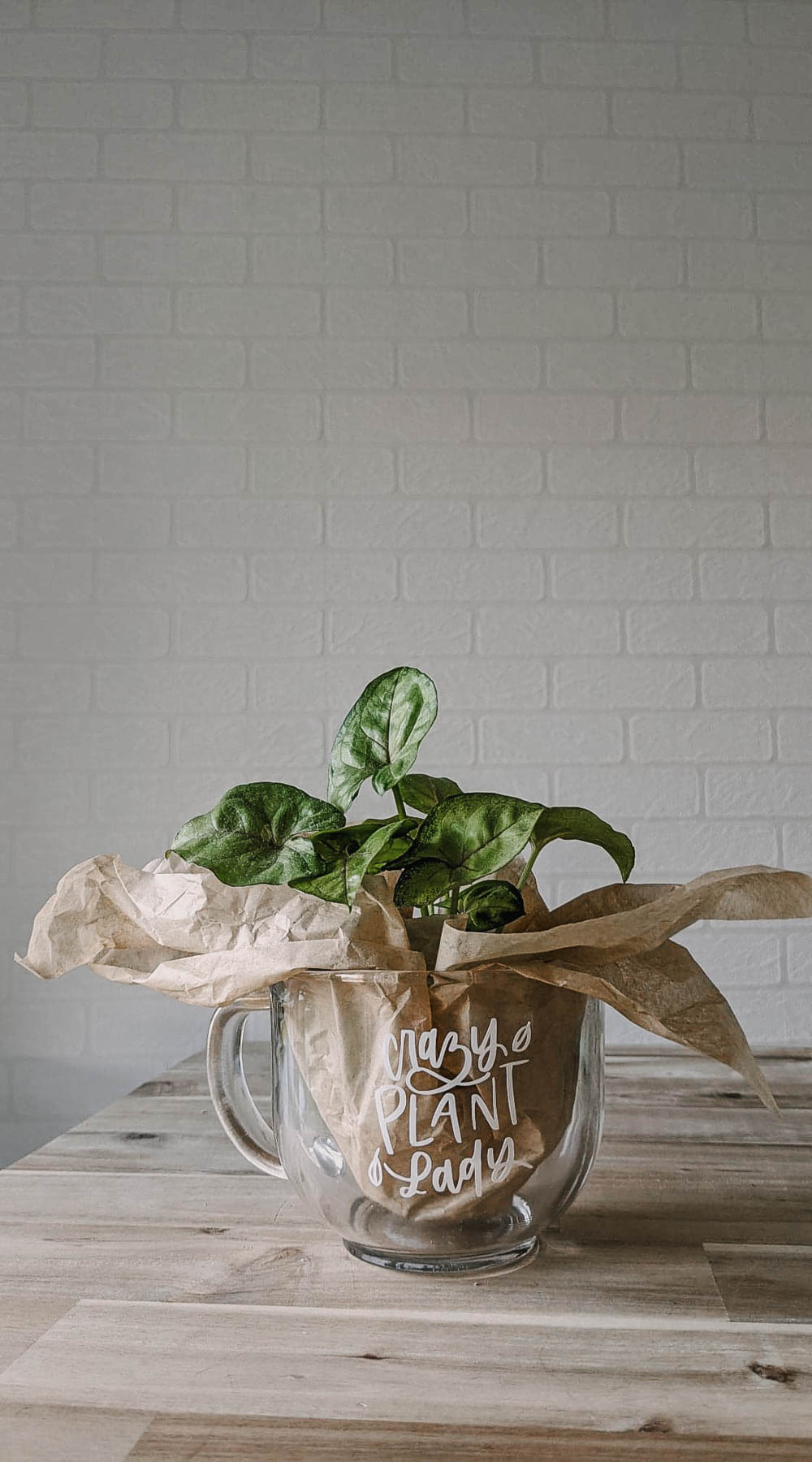 This simple DIY plant lover gift idea from Lemon Thistle is just so cute. She adds white vinyl to a glass cup and a little plant inside.
Giving an ornament is a creative way to share something special for Christmas. This DIY Grinch ornament from Country Girls Life is a great example of one you can make with Cricut.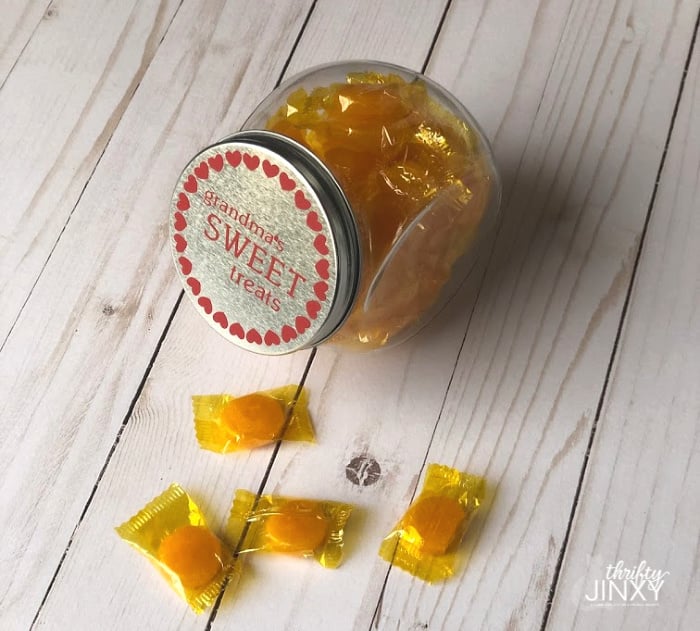 I've seen these glass jars with lids at Dollar Tree and I love the way Thrifty Jinxy used it here. Add some vinyl to create a a special gift for Grandma.
Oven mitts and hot pads are in abundance at the dollar store. There are so many ways to embellish these. I love what Our Crafty Mom did with this oven mitt gift idea, adding some tools and a brownie mix to make a cute gift.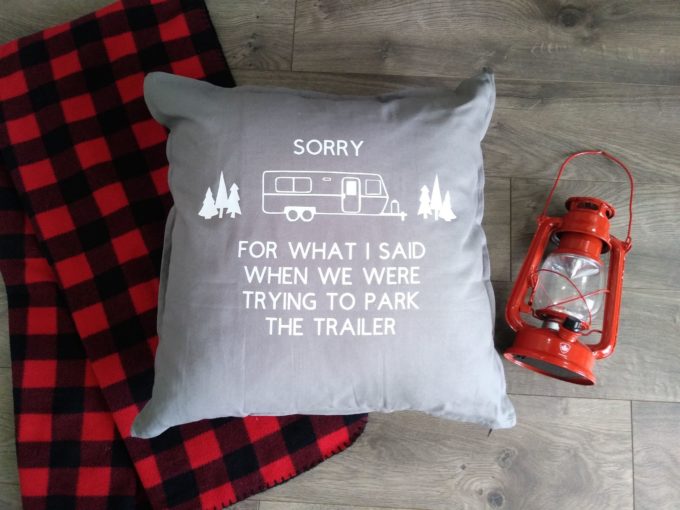 A DIY throw pillow with Cricut is really simple and there are so many style options. This camping themed piece from Brooklyn Berry designs would make a really funny gift.
Cricut and Dollar Tree Cozy Gift Basket
Create a $10 gift basket with items from Dollar Tree personalized with Cricut vinyl
Tools
Basic tool set
Cutting mat
Instructions
Gather items from Dollar Tree to create a gift basket. In this project we will add vinyl to a plastic bin, mug and jar candle.
Open this project in Cricut Design Space. NOTE if you are using Dollar Tree items that are a different size then the ones shown you will need to change the size of the designs in Design Space.
Click make it on the project in Design Space. Follow the prompts and select a cutting mat and permanent vinyl as the material.
Load a piece of vinyl onto the mat and into the cutting machine and let the machine cut the designs.
When cutting is complete, weed the designs.
Clean the mug, jar and basket with rubbing alcohol and let dry
Use transfer tape to move the vinyl from its backing to the blank and use a scraper to push into place. Then pull back the transfer tape.
Repeat this for each design.
Assemble the personalized items with the rest of the gift basket.
Notes
Always save your vinyl scraps! I created these designs using scraps of vinyl from my stash. This helps keep the cost of these projects low. (scrap drawer pic)
Recommended Products
As an Amazon Associate and member of other affiliate programs, I earn from qualifying purchases.
I hope these Dollar Tree Cricut gift ideas have inspired you to create a gift of your own.
If you like this post, consider pinning and sharing it.
Thanks for visiting!