This shop has been compensated by Collective Bias, Inc. and its advertiser, MARS Incorporated. All opinions are mine alone. #BOOItForward #CollectiveBias
Are you getting ready for Halloween? My family is busy planning costumes, parties, treats and more. We love this time of year and the fun we get to partake in. One of my favorite Halloween traditions is BOO'ing. If you have never been BOO'd or created a BOO Kit for a friend then this is your time to get in on the fun. I have a Halloween bat template to help you create a spooky BOO Kit. Read on for all the details and Let's do Some Friendly Neighborhood BOO'ing.
What is BOO'ing, you ask? It's when you make a bundle of Halloween goodies (the BOO Kit), secretly deliver it to an unsuspecting someone, then they get to BOO It Forward!! I headed to Walmart to pick up some supplies including a bag of MARS® Halloween 'Mummy' Fun Size candy, a plastic container and American Greetings treat bags and stickers.
When I got home I created a Halloween bat template to decorate the plastic container. You can download your bat template here to create your own BOO kit and get this tradition started in your neighborhood. I printed the template, cut out the pieces, then traced and cut them from black cardstock. I used white chalk and googly eyes to decorate the face then taped them to the container. You could easily use a pre-made container but sometimes it's more fun to get creative like this.
Once the container was decorated I set to fill it with all kinds of goodies. I made this BOO Kit for my neighbor and thought I would package treats in individual bags so every member of the family would have one of their own. When creating a BOO Kit you can fill it with whatever your friend might like. Think candy, trinkets, temporary tattoos, drinks, movies anything you can think of. You could even get the Spider-Man Homecoming DVD & Blu-Ray on October 17th at Walmart. The idea is to make your BOO Kit fun and surprising.
Once my BOO Kit was complete I printed out a BOO card that encourages my recipient to BOO it Forward and share some Halloween fun. I can't wait to deliver this spooky BOO Kit this week and watch the magic travel around our subdivision.
Hover over this image to shop for the items I used in my BOO Kit.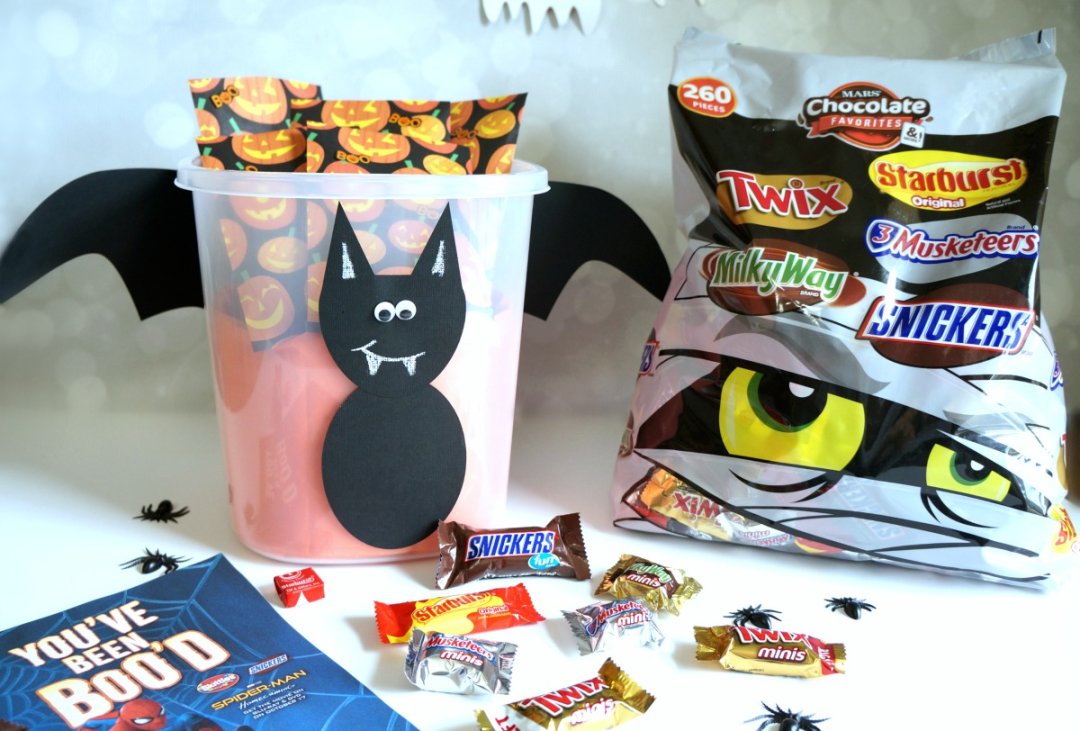 Now that you know what a BOO Kit is, head to Walmart and get everything you need to create your own. You can download this Halloween bat template or design your own. Get more BOO Kit inspiration here and tell me how you are going to BOO it Forward this Halloween.
Thanks for visiting!