This shop has been compensated by Collective Bias, Inc. and its advertiser. All opinions are mine alone. #PilotYourLife #CollectiveBias
Have you ever been inspired by something small to do something big? It happened to me this month. I was picking up school supplies for my kids trying to think through how to keep everything organized this year and there it was, a pen, and it inspired me to create an awesome organized and functional school command center for my girls. Crazy right? After a little planning and work, our school command center is up and running, the girls are excited and we are ready for school to begin.
Inspired by a pen, really? Yes! I have a love of writing instruments, my office is full of mason jars stocked with pens and markers. The particular pens that peaked my interest are FriXion ColorSticks and Erasable Marker Pens. The idea that you can write fearlessly in smooth vibrant color then erase and rewrite as needed is what got my creative juices flowing. These pens use unique thermo-sensitive gel ink formula that disappears with erasing friction. I needed a school command center that could change and flow with my kids, something I could rearrange as they grow and add or take away elements to fit our needs. So I left Target with these pens, excited to get started on our updated command center. These pens are exclusively sold at Target and you can use this coupon to get a great deal on a few packs for yourself.
Hover over the pens in this image to shop now!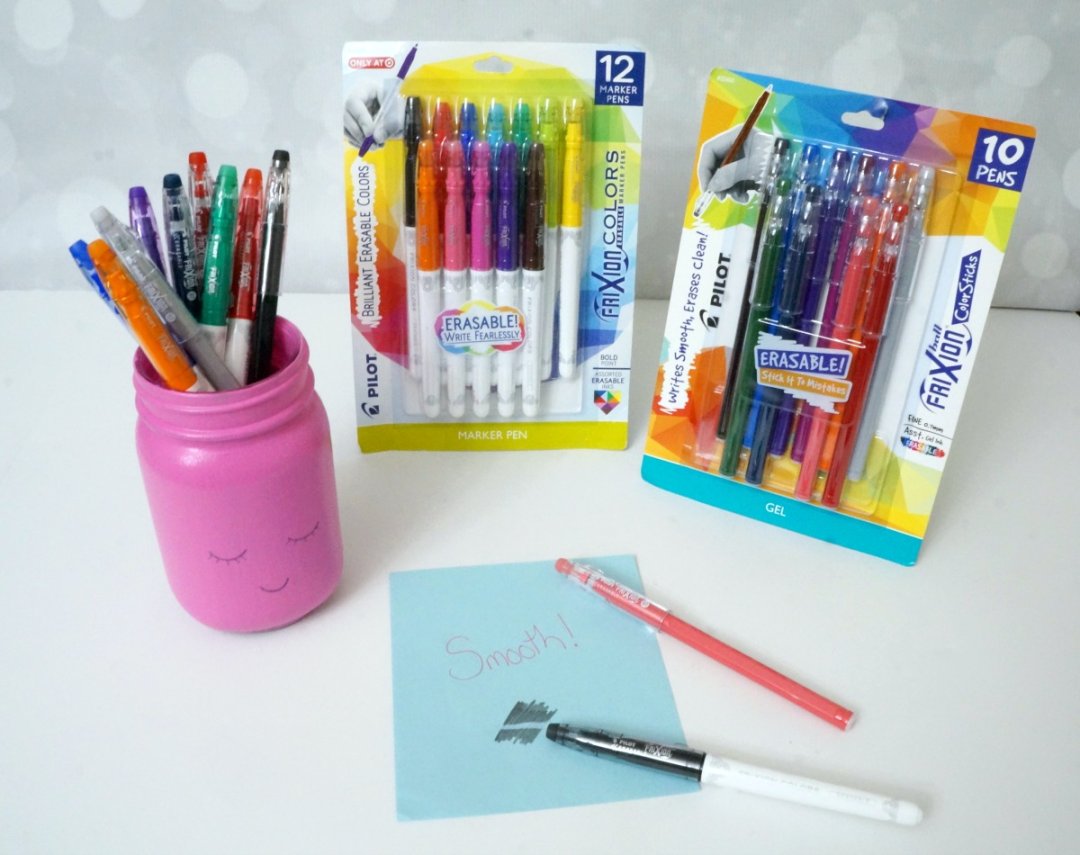 You can see our original command center here. The problem was that after a year my paint was peeling from all washi tape and activity. I decided to add peg board to our mudroom to hold all our school essentials. Hanging peg board was a pretty straightforward project. I screwed a few strips of wood into the studs of my wall, then screwed the pegboard to the wood strips. This leaves a space behind the pegboard allowing hooks and pegs to be used in the holes.
Once the peg board was up, I added peg hooks and used gold binder clips to hang our calendars, homework bin, pen holder, and chalkboard. My girls each have a separate calendar so a space for each is key this school year. These are the pieces that we need now, the peg hooks can easily be moved as our needs change.
My two favorite elements in the command center are the mason jar pen holder and homework bin. The pen holder is a mason jar painted pink with a pretty little face on it. It holds FriXion ColorSticks and Erasable Marker Pens so we can easily update calendars, sign homework and more. I added a binder clip to the rim and it slides right over a peg hook, it's secure and keeps pens right where I need them.
I borrowed the homework bin from our kitchen chalkboard, it's a clear wall file lined with fabric. These wall files have holes on the back and they fit perfectly over the hooks on the peg board. This bin will hold all of my girl's papers and any important notes that need to be seen and dealt with.
We've had this school command center up for about a week and already it's getting some use. I love having the FriXion ColorSticks on hand to update calendars as new activities get added and changed. The eraser works really well, I can cleanly erase old notes and add new ones right over the top. The fun vibrant colors perk up our school calendars too.
I hope this command center project will inspire you to create something fun. Make Back-to-School less stressful and more fun with your favorite FriXion and write fearlessly this year in whatever project you take on.
Tell me, what has inspired you to do something big?
Thanks for visiting!