Summer is one of my favorite times of the year to have a party. Everyone is outside enjoying the sun, great food, good company and of course a cold drink. You've got to have an easy to reach, and festive looking, place for your guests to grab a drink. Last year I used a plain wooden crate to create a patriotic beverage holder that we used all summer. This year I am sharing some of my favorite, and most creative, Summer Party Beverage Holders.
This is just the beginning of my Summer Party Series. Be sure to follow along for all the summer party inspiration you will need for your next bash.
Take a look at how I easily created this patriotic beverage holder, and make one to fit your theme with just paint and stencils.
Here are some of my favorite beverage holders. Be sure to follow the links to the fabulous bloggers who created these and pin from their site.
Wood Deck Cooler from Fox Hollow Cottage
Large Beverage Station from Michaela Rae
Wheel Barrow Cooler from Exquisite Weddings
Wicker beverage cover up found on Hometalk
Junk Drink Stand from A Diamond in the Stuff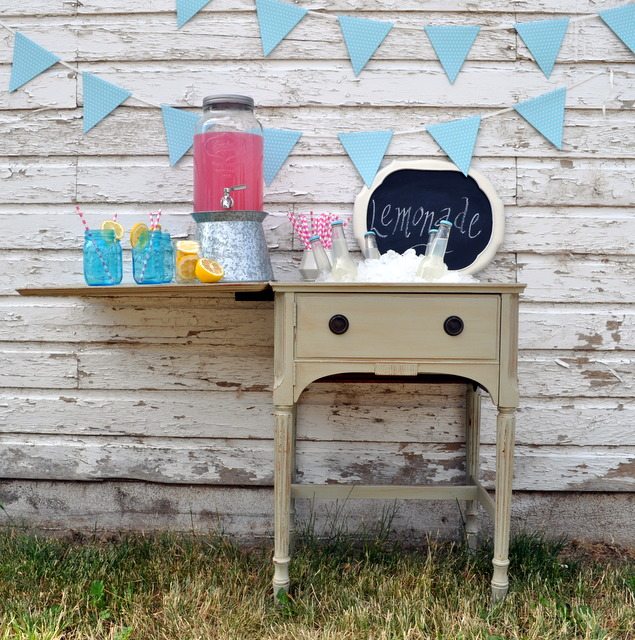 Sewing table to beverage holder from All Things Thrifty
Cooler Stand from Birds and Soap
Are you inspired to create your own Summer Party Beverage Holder? I'd love to see what you come up with.
Be sure to check out the other inspiring Summer Party posts in this series.
What is your favorite summer beverage?
Thanks for visiting!