Hey there Creative Ramblings readers; I'm Sydney from Tastefully Frugal and I'm excited to be with you today sharing something very near and dear to my heart. 10 Tips to Start Insourcing Your Life. A few weeks ago Sarah shared a post, DIY Your Life, that talked about insourcing vs. outsourcing. When I read it, I knew exactly what she was talking about. The world we live in today is always telling us we have to do more and be more. Work harder, have a spotless home, give elaborate gifts, have the latest and greatest whatever. It's something that I fell victim to early on in life. I was working 80 plus hours a week just to keep up the appearance that I had it all together. That all changed when we (my husband and I) found out we were expecting our first son. Deciding to become a stay-at-home-mom was an easy decision at first; but once we realized all the things we (thought we) were having to give up, it made the choice a little harder to swallow.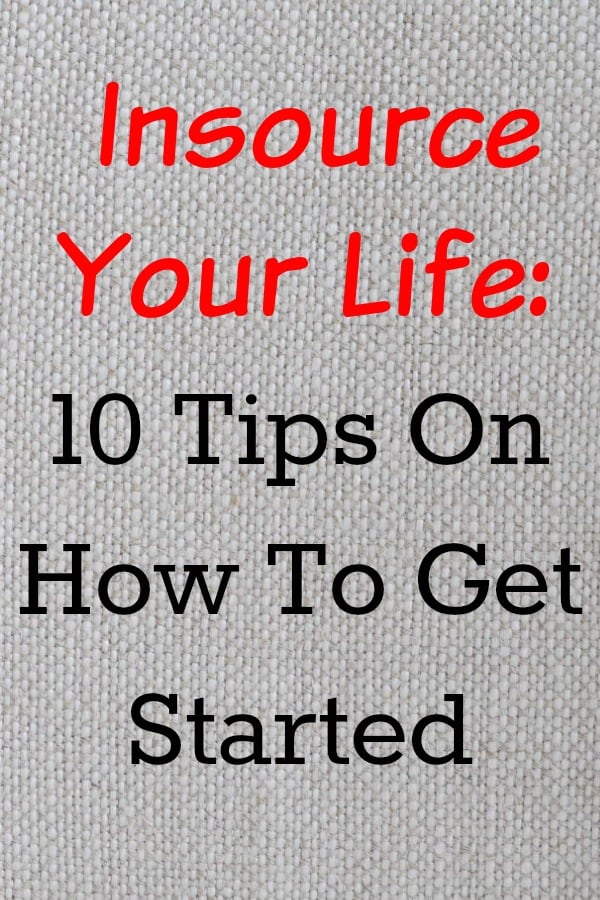 Fast forward 4 years and we are happier than ever, and still do/get almost everything we want. All because we made the choice to insource our lives. We stopped listening to what we "should" do or be and started making the best decisions for our situation and our family. Was it easy at first, no. But over the past few years we have become comfortable with the adjustments we made and I think we are actually in a better place now then we were before (having two of the cutest kids ever helps too). Today I'd like to share with you what I have learned and help you get on the path to living an insourced life too.
10 Tips to start insourcing your life
Cut costs wherever possible. Do you really need HBO, Starz and Showtime? No, probably not. Sit down, take a look at your monthly expenses and see where you can cut costs. For us, the biggest money saver was cutting entertainment and technology. We don't have cable, (which I'm totally fine with) we have Netflix. We switched from T-Mobile to Straight Talk (which actually uses T-Mobile's cell towers so we get the same service for half the price). We called our internet provider and were able to get a promotion price that was 1/3 of what we were paying (and we have gotten similar promotions twice since then). Instead of going out to the movies we get a Redbox. All in all we cut over $200 a month from our budget.
You still need to get out and have the occasional date night or mommy time. Swap babysitting with friends and family. I have a group of friends that swap babysitting every Friday night between 6 couples. Not all the kids go to just one person's house, but at least once a month every couple gets to have a date night without having to worry about finding or paying for a babysitter.
Tidy house vs. clean house. This is becoming my mantra. I like having my house in order, but I hate cleaning. I've come to the conclusion that a tidy house looks just as good (for the most part) as a clean house. I still clean my house every week but I don't worry about scrubbing walls, washing baseboards and keeping everything spotless. I do that every few months. No need to hire a maid when we pick up after ourselves every day.
Meal plan, meal plan, meal plan. The easiest way to stop eating out is to have plans (and good food) for dinner every night. It's also nice to have a few freezer meals ready for those crazy days when dinner is the last thing on your mind. If you need some inspiration check out some of the Freezer Meals I have shared in the past.
Talk to your employer about telecommuting or changing your work schedule to have more days off. A new trend that I really love is telecommuting, or working from home. A lot of companies are switching to this because of the big cost savings for them. But there are big cost savings for you too. Think less money in gas, less maintenance needed on your car, you don't have to go out to lunch every day, no getting stuck in traffic. The list goes on. If that isn't an option talk to your manager about switching to working four 10's. That way you have 3 days off a week.
Downsize on the gifts. Just because your kids asked for every toy in the Toys'R'Us Christmas ad, doesn't mean you have to get them everything on their lists. A lot of time gifts from the heart, or experiences vs. physical gifts are cherished more. Think of ways you can spread joy during the holidays, bring a smile to your loved ones faces. If your spouse's love language is gifts, think about sitting down together and setting a budget for the year that way you can still show them you love them without breaking the bank.
The next 4 tips are to help you get into the mindset of living an insourced life.
Be realistic. There are certain things you can't or don't want to cut out of your life; and that is OK. Be realistic with what you can and can't live without. If your main form of entertainment is watching your favorite TV shows and it's what makes you happy, don't cut your cable. If you like getting you hair done by a professional (or you're like me and ruin your hair if you try to do it yourself) by all means go get your hair done. You don't want to be miserable, so don't make choices or set goals that will make you unhappy.

Set goals. Both long term and short term. Where do you want to be in ten years? Do you want to buy a new house? Pay off your current house. How about next month or next year. Have you been wanting to go on a cruise but just can't find room in the budget? Set fun, realistic goals for yourself. Things that when times get tough you can look at and they will help you get back on track.

Don't be too hard on yourself. Life is hard, and every now and again you need a break. If one of your goals is to stop eating out as much but you had a horrible day at the office and you just want to relax, order a pizza, or go out for appetizers. Don't beat yourself up if you occasionally have to step out of your plan. And I mean occasionally, like every few months, not once or twice a week.

Reward yourself. What fun is it working towards something if you don't get a treat every now and then?! If you have stuck to your plan and are feeling good about where you're going give yourself a little treat. Maybe it's picking up a Jamba Juice or buying a new shirt on clearance. Don't go overboard but a small reward now and then makes life a little more enjoyable.
If you're still reading this good for you! You're one step closer to stopping the outsourcing that we've all come to consider the norm. If you are wanting to take control of your life more, start insourcing, I hope this helps. And if you are looking for more frugal living tips, recipes, crafts and fun follow me over on Facebook and Instagram.
What is the one area of your life that you wish you could take more control of?
Thanks for visiting!