Take a look at these winter burlap decor ideas that are inspiring me this season.
I planned on showing you my throw pillow makeover today but after one last try this morning I declared this project a complete FAIL! Not the cute "oh it still looks nice" fail, but total and complete fail; no pictures.
So I gave up, and will try again with a new technique next week. I decided to indulge myself a little this evening and do a roundup of my favorite material right now, burlap.
I am planning on using touches of winter burlap around my house this winter. Burlap is versatile enough that I can leave the items up over Christmas and through those long winter months. Take a look at my inspiration.
I have a burlap wreath that I have had the pleasure of dressing up for the season and holidays. I want to do something with a little red and silver this year. I love how elegant this wreath is from Pretty Little Paisley on Etsy.
We have 2 cream-colored knit stockings that are always on our mantle. I would love to add 2 burlap and cream stockings to the mix for the little ones. I love these from Turnbow Designs on Etsy.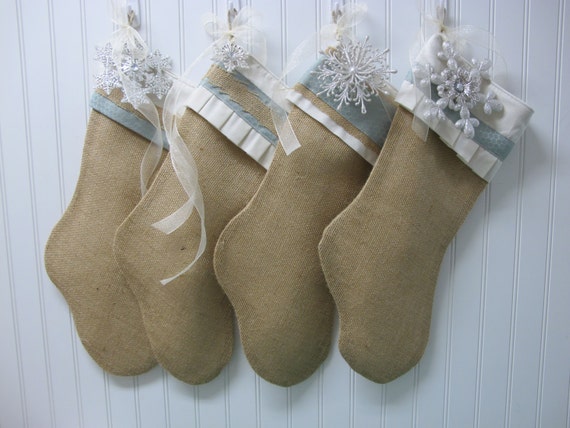 I save all of my marinara jars and have different sizes stocked up, you never know when you might need a jar right? I would love to do something along these lines on a table as a center piece or on the mantle at varying heights, love the simplicity of burlap and a sparkly snowflake. This project idea is from Michaels.
Same with these candles from Marty's Musings, just a piece of burlap and some ribbon or twine. So simple, but these would look great staggered among those jars on the mantel or table.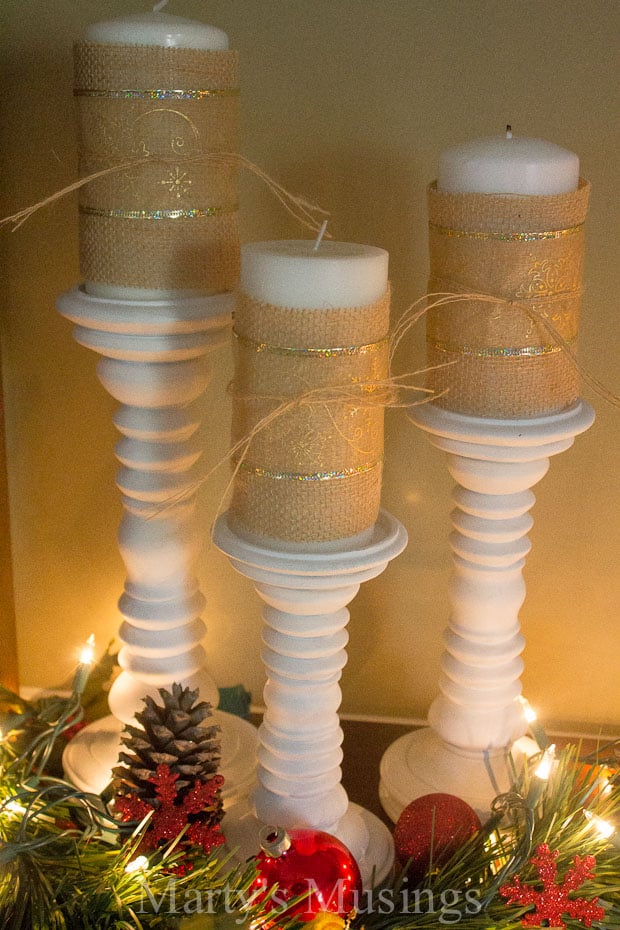 This is a great tutorial on stenciling winter burlap from Anyone Can Decorate. I could see this on my wreath or as part of a tree topper. Adding text to a burlap ribbon is a really creative idea.
This tree skirt from Sweet Annie Creations on Etsy is gorgeous, I love the glamour. I currently have a very old piece of red felt that I use as my tree skirt. It might be time to upgrade.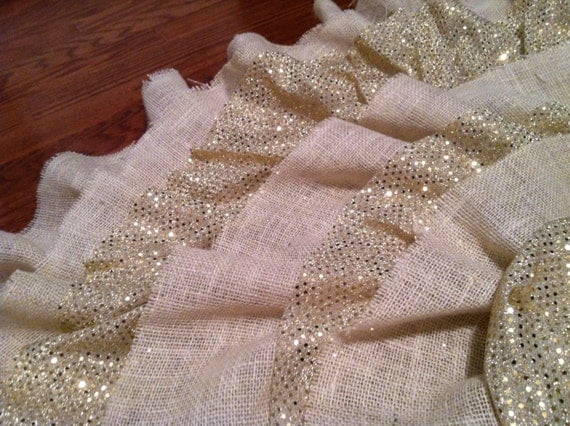 And finally, why not share my love of burlap with others. Last year I wrapped most of my gifts in patterned kraft paper. I still have a roll or 2 left, I could easily add a ribbon, some burlap, and a flower bow or tag. I love a beautifully wrapped gift!
I feel inspired and motivated even after my craft failure this morning. Although I won't be decorating for winter any time soon (I really am enjoying fall) I will probably start working on some of these winter burlap projects next month.
Do you plan ahead for the next season? Or do you wing it?
Thanks for visiting!